Meet Amy G.
We are so proud and excited to welcome Amy Gutierrez (aka Amy G.), an award-winning producer, reporter and host, as our new Brand Ambassador for Campos Family Vineyards. Amy brings more than 25 years of experience in broadcast television, virtual event hosting and social media, having been named a Sonoma County "Social Media Star" by the Santa Rosa Press Democrat in 2020. An eight-time Emmy-winning producer and reporter who covered Major League Baseball's San Francisco Giants, Amy has been their team ambassador since 2008. As a broadcaster, she also covered the Oakland A's, Golden State Warriors, San Jose Sharks, Raiders, and 49ers.
We feel fortunate to have Amy representing Campos Family Vineyards to help us tell the stories behind our wines, our work in the community, and our vineyard "home." We are located in Contra Costa County, where we not only offer a fine selection of wines but also breathtaking views extending to Mount Diablo, a place to relax and unwind from life's daily stresses, and a calendar of family-friendly events and activities all year long. "The best word I can use to describe Campos Family Vineyards is authentic. From the moment I met the owners, Ric and Michelle, I was hooked on their passion," Amy said.
One of Ric and Michelle's passions is giving back to their community and worthy causes in a truly unique way. With their Give Back Series of wines, they donate a portion of the proceeds of select wines to fight diseases and disorders such as ALS, Alzheimer's and autism. "I'm proud to align with Campos Family Vineyards and work alongside people who are making a difference in their community and beyond while taking a minute to enjoy the fruits of their labor," Amy said.
A busy media professional, Amy is a well-known host and emcee for various causes and events throughout the Bay Area and beyond. She is a national correspondent for the MLB Network. She works as a producer and host with UCSF Health and lectures in the Communications Department at Sonoma State University. On top of all that, she is a best-selling author of baseball-themed children's books Smarty Marty's Got Game, Smarty Marty's Official Gameday Scorebook and Smarty Marty Steps Up Her Game, the first in a series of chapter books. A communications major and graduate of U.C. Davis, Amy played softball as well as basketball, volleyball and soccer in her youth. She describes herself as a "storyteller at heart."
Amy's proven abilities to engage with people and make them feel at ease will be a true asset to our vision here at Campos Family Vineyards, which is one of coming together as a community — for connection, celebrations, family time and yes, enjoying good wine. For starters, take a look at the videos Amy has hosted that showcase our wonderful wine varieties, the beauty of our venue and the many activities — from concerts to weddings to corporate events — held on our 44-acre estate.
Amy lives with her husband and two children in her hometown of Petaluma, California, where she also runs a social media marketing company. Visit her website, www.amygmedia.com.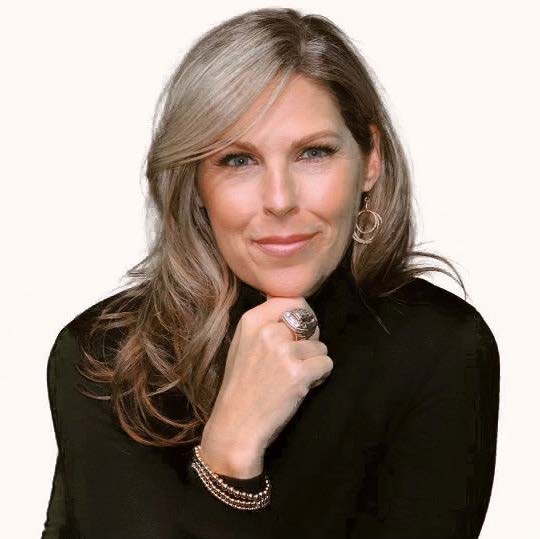 Tour Campos Family Vineyards with Amy G.
Corporate meetings, training sessions or retreats- enjoy our 8,000 square foot indoor event center, or for outdoor events enjoy our spacious picnic areas, baseball field, and bocce court.  Come enjoy several conversation areas outside overlooking the vineyards.  A beautiful atmosphere to ripen your great ideas!
Wine Down with Amy G.
Gigi's Blend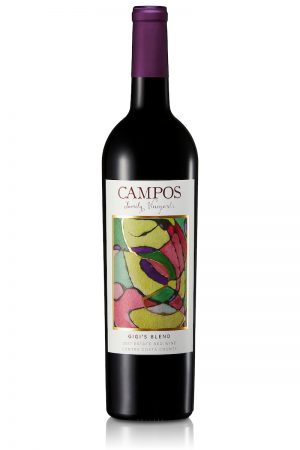 Gigi's Blend is the flagship wine that started the Campos Family Vineyards Give Back Series, which donates a portion of the proceeds from select wines to worthy causes. It is named after Ric and Michelle Campos' granddaughter Gianna, who has Asperger's, a form of autism. The idea for a "give back" wine came after the family's visit to Sacramento to see Temple Grandin, an autism rights activist and animal science professor. Afterward, Gianna commented, "Her brain thinks like my brain." The Campos Family knew they had to learn more about autism. It was Gianna's idea to create the wine's textured label for the first bottle in the Give Back Series. "This is her creation," Michelle said. Tactile learning is a common developmental tool for children with autism.
Gigi's Blend, a medium-bodied Barbera blend, has won four gold medals at the San Francisco Chronicle's Wine Competition, the largest competition for North American wines. "It's an Italian fruit. It grows amazingly in California, very similar climate conditions, and so the fruit just flourishes. Without good fruit, you're not going to have good wine," Ric said. Whether paired with food or on its own, "it's very easy drinking."
The Campos Family said they have raised a lot of money for autism awareness with Gigi's Blend. "Our community completely adopted it," Michelle said. "And this is something that will always be in the Campos tasting room." A portion of the proceeds from the sale of Gigi's Blend is donated to The Temple Grandin & Eustacia Cutler Autism Fund.
Forget Me Not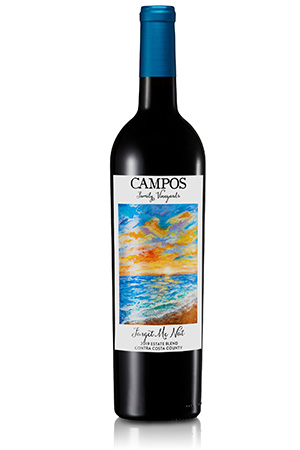 Forget Me Not is an Estate Red Blend, part of the Give Back Series of wines created by Campos Family Vineyards owners Ric and Michelle. A portion of the proceeds from its sale goes to support care for those with dementia and Alzheimer's, diseases that have affected millions of patients and their families.
The Campos Family decided to create this Give Back wine after watching their good friends care for their mother, Sylvia, who was diagnosed with dementia at the young age of 60. Seeing Sylvia's slow decline and the difficult decisions their friends have had to make for her care tugged at the Campos Familys' hearts. The couple said so many people they meet in their tasting room can relate. "This is just a very common disease," Michelle said. "And so, we are happy to give back and raise funds for support care for dementia and Alzheimer's."
Forget Me Not is a delicate Mourvèdre blend of Cabernet Franc and Barbera. Ric describes the Mourvèdre grape, a black-skinned variety, as "finicky" but with a unique flavor that people tend to enjoy. "People are really loving this grape," he said.
The "longest goodbye" that so many family members of dementia and Alzheimer's patients have described is depicted by a local artist's rendering of a beautiful sunset on the bottle's label. Aptly named, Forget Me Not honors all of those whose sunset years have been forever altered by these devastating diseases and their loved ones who need support too.
Lou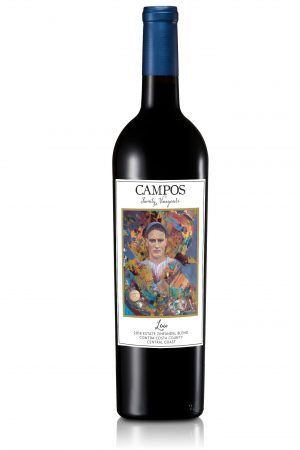 This 2018 gold medal Zinfandel-Barbera blend is part of the Campos Family Vineyards Give Back Series, with deep connections to both baseball and ALS, also known as Lou Gehrig's disease. Owners Ric and Michelle Campos came up with the idea for a wine to help find a cure for the disease that took the life of the New York Yankees' first baseman and has affected so many others.
Ric was watching an NFL special about how ALS is affecting pro football players with head injuries, with specific mention of Dwight Clark. Being a huge fan of the 49ers receiver who died from ALS at the age of 61 ("everybody knows The Catch"), Ric was moved by the story. "At the end of the segment, they mentioned that ALS was the least funded foundation. That just touched me. And so, I actually started weeping. I couldn't figure out why."
Then Ric realized that it had been ten years almost to the day since he lost one of his best friends to ALS. He and his childhood friend had been baseball buddies. "He was the crafty left-hander and I was the hard-throwing right-hander." The idea for another Give Back wine was born.
While Lou Gehrig's famous face graces the front label, the back label has a special dedication to Gretchen Piscotty, a Bay Area baseball mom who died from ALS in 2018 at age 55. Gretchen was the mother of three athletic sons, including professional baseball player Stephen Piscotty. The Cardinals and the Oakland A's set up a trade so he could be with his mother in her last days. "She's a Bay Area mom loved by many. We are proud to know the Piscotty family and we are behind funding for ALS. That's really our heartbeat," Michelle said.
Lou is a medium-bodied wine with hints of cherry and blackberry and a bit of peppery spice to it. A portion of the proceeds from Lou go to benefit the ALS CURE Project started by the Piscotty family.
Judah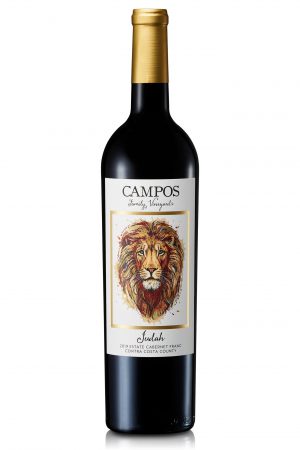 The inspiration and namesake for Judah, a 2019 Estate Cabernet Franc, is the youngest grandbaby of Campos Family Vineyards owners Ric and Michelle. The delicate-colored wine with hints of toasted butterscotch and raspberry features a lion's head on the bottle. Michelle said the image represents the lion of the Biblical tribe of Judah. She envisioned what the label would look like when her daughter was pregnant. From the extraordinary moment of Judah's birth, "he definitely lives up to that lion," Michelle said. Judah decided to make his "roaring" appearance before the midwife arrived for the home birth, leaving Michelle and her son-in-law to take charge. At 10 pounds and 12 ounces, Judah "made a very grand entrance and he is our youngest little cub of the Campos family," Michelle said.
Ric describes the Cab Franc as "like a cousin" to the Cabernet Sauvignon. Middle of the road in terms of boldness and body, it pairs well with pork chops or even chicken. "Our Cab Franc is estate grown, is really an earthy type of wine, very delicate, easy drinking. It's becoming one of the most popular wines out there."
Zinfandelta
Just take a look at this wine's funky, playful, '70s-inspired label and you get the idea that Campos Family Vineyards owners Ric and Michelle wanted to have some fun with this delicate, slightly spicy Zinfandel wine. With its twist-off cap, it can be taken on your boat or out to the campfire for easy drinking while reminiscing about the good old days of peace, love and cool vibes. "We wanted to throw it way back to when life was easier and things were groovy," Michelle said. "Just laid back, floating on the Delta. We live on the Delta, and the Delta is definitely in our heart, in our blood, and so we wanted to honor that with Zinfandelta."
Contra Costa County, where Campos Family Vineyards is located, is known for its Zinfandel vines, among others. Any fan of a good Zinfandel — and those who might like to try one — will dig Zinfandelta, a gold-medal winner 2018 vintage wine. "What you're going to pick up with the Zinfandel is the spice," Ric said. "It's not a big, bold one like you might get out of the Lodi region. Ours is a little more delicate and easy drinking."
Take a Virtual Tour of our Venue!
Click & Drag Your Mouse/Cursor In The Map Below